HAVE YOU EVER WISHED YOU COULD HAVE
a decrease in Cesarean rate
a decreased need for Pitocin
a decreased need for forceps
a greater chance of breastfeeding successfully
increased health and overall satisfaction
Hi, I'm Julie.
I'm so glad you're here!  My journey to find my life calling as a mother and birth doula started when I met the love of my life. My hubby has been there beside me through it all as our children have been born in both hospital and home settings.  I use that firsthand knowledge now to serve my clients with not just my rigorous training through Birth Arts International, but also through my own personal experience. 
WHAT BIRTH WITH ME LOOKS LIKE
We'll have a friendly relationship in which you feel comfortable asking questions and expressing fears or concerns via Zoom, phone, text or email for a total of $900.
Free access to my online pregnancy & birth course
Access to my lending library which includes books & videos
On call support 24 hours a day (two weeks prior to your due date)
Providing early labor support as requested, including in your own home
Continually by your side throughout labor and delivery until you are blissfully relaxed after your baby is born
Utilizing non-medical support techniques to ensure you have the birth you desire
Creating and updating a birth log as circumstances allow
Meeting with you postpartum to discuss your birth experience & evaluate postpartum needs
Counter pressure or massage
Support with water therapy
Applying a cool cloth or heat
Relief with essential oils
Giving food, drinks or ice chips
Continuous encouragement and praise
Visualization and affirmations
Customized aromatherapy and relaxation
Facilitating communication
Evidence-based information
Ocean waves or music of your choice
Helping family know how to support you
Feel confident, safe, and close to your baby!
For a deposit of $200 you can reserve your delivery window in my schedule, and continue confidently on your journey through a healthy and fulfilling pregnancy and delivery!
What new Mamas are saying
Amy J.
"Julie was a great coach from the start. Always checking up on me to see how I felt or if I needed anything. She'd remind me to relax with my Braxton Hicks Contractions. The closer I got to deliver I felt I could easily talk to her day or night about how my body was functioning. I went into labor and had an hour to the hospital. I had lots of back labor and she rubbed me the whole way. When we got there the nurse that was checking to see how far along I was was hurting me excruciatingly. She stopped the nurse and found me a new one. Everything went smooth after that. During labor she gave suggestions on what to do next. She was very helpful. I got in the tub and had a popsicle. I had my daughter without an epidural like planned and breathed and relaxed through it all. I highly recommend Julie with her incredible experience and mentor capabilities."
Starr M.
"My doula (Julie) was extremely supportive and was there for me throughout my labor and delivery with twins. She helped me through my labor with ease and I don't think I would have been able to do it without her. Having a doula made it so much better. Essential oils really helped me relax and stay focused and concentrated on labor. Everything was exactly what I imagined it would be! My birth experience was amazing!"
Savannah N.
"Julie is awesome! She's very sweet and knowledgeable about ways to support many pregnancy and birth discomforts. Thank you so much Julie. We've been taking it all in. She's such a good baby. Thank you, thank you!!"
Sri S.
"Thank you so much for taking time to come and meet us, explain the process of labor, explain the uses of oils, etc. Such an informative session. Thank you again for everything you do 😍"

"Without Julie, my labor journey would have been tough! Thank you so much for making it a beautiful memory for me. Thank youuuuuu 🤗🤗🤗"
Andrea G.
"We can't thank you enough for being there for us… I just want everybody to know I felt super safe at home… Everybody was so wonderful and helped keep me grounded… 👶🏼💕 You helped a lot especially with the ending part of my pushing."

"My pregnancy book wasn't lying when it said doulas are birth angels. Julie was familiar with my midwife and everyone worked so well together. She did great. I can't think of any way she could've improved support. It was an amazing, wonderful experience."

"The support I found most helpful: breathing, squeezing a hand, counter pressure, essential oils on my back, telling me my body is doing what it needs to, and just having somebody there next to me."
Jessica B.
"My birth experience was amazing. Hard work for sure and also such a blessing to be in a safe place [home] with a team of trusted people encouraging me. I appreciated your calm, close but not overstepping presence to help when needed and be near when needed. It's empowering when you present an option but also leave it up to the couple what to choose. We loved you marking down the milestone points in labor that later can be a blur. Thank you so much for your listening ear ahead of time and for your being there each step of the way in labor. We appreciate you!"
Sydney M.
"We found [Julie] to help give me some comfort and peace of mind (highly recommend!) Her calm, reassuring voice kept me centered as the contractions kept coming, hard and fast, with no relief. Her encouragement and reminder to breathe through contractions was invaluable. My incredible birth team never doubted my abilities, and continued to reassure me that I was already doing it, and I WOULD be able to birth my baby. If you're considering home birth and are looking for a doula, HIT ME UP and I will hook you up with the best!! I cannot thank my birth team enough!"
Britney H.
"Julie was a huge help and offered lots of support. It was just what I needed for me to be able to have my 3rd VBAC, this time with no pain medicine and very little Pitocin." -Britney H.

"I truly appreciate your help and support for Britney today and leading up to this point. The ideas and encouragement you gave really went far for us. I also feel like you helped me a lot by guiding me through helping Britney more. I really felt more involved with helping Britney through this experience today than the other times she delivered." -Britney's Husband
Mallory S.
"Due to Covid, only one support person was allowed in my delivery room. I labored from 10pm - 6:30am. It was great to have support virtually throughout the night and it allowed my husband to get some sleep. I needed reminding to go to the bathroom. I got up and pretended to be hula hooping. I loved using the peanut ball and adjusting the bed to keep my pelvis lower than my head/torso. I appreciated having a quiet birth without disruptions. Julie helped me to focus on what I wanted."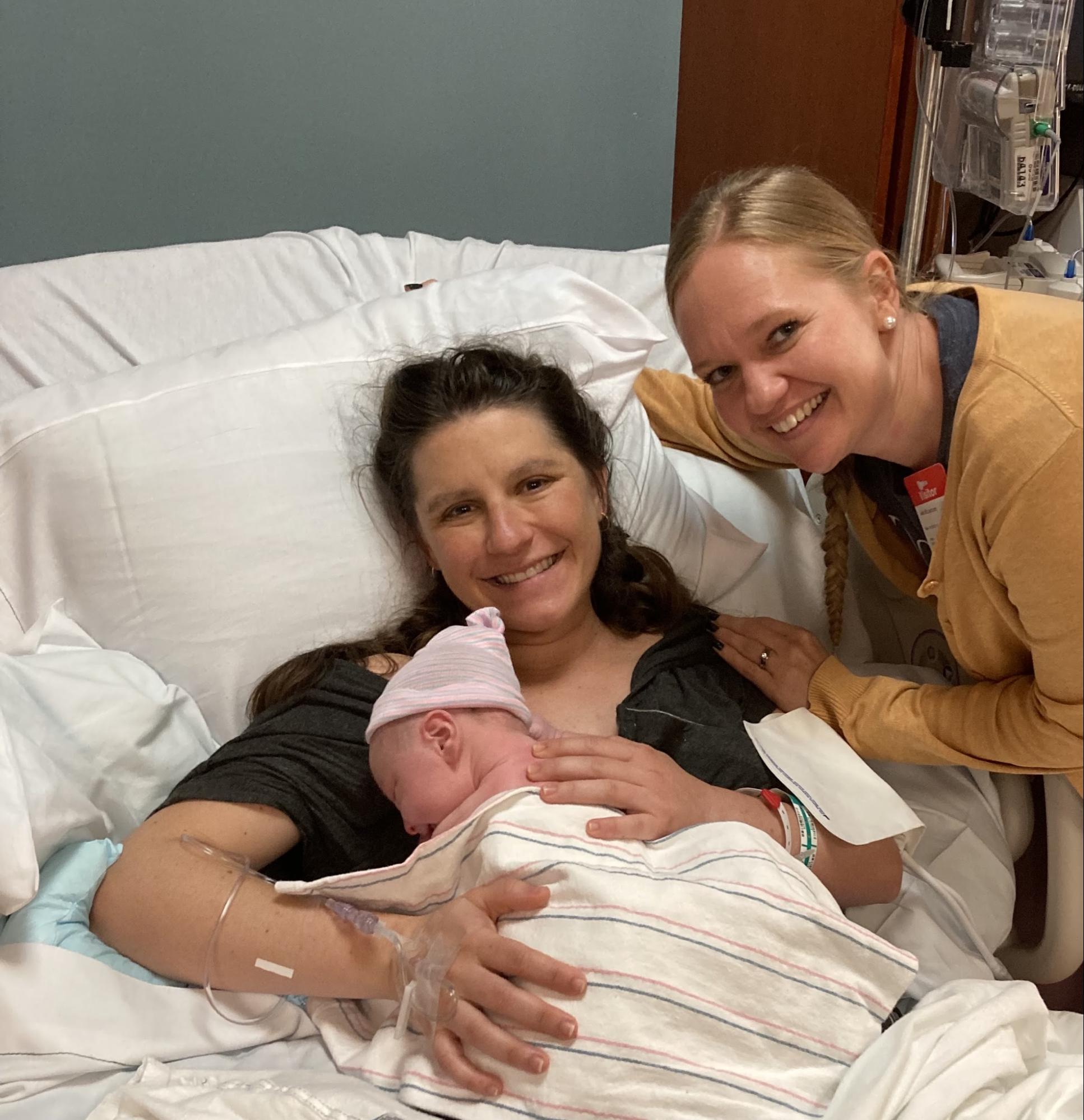 Jordan K.
"Having someone to help my husband and relieve him from constant watch over me was huge for both of us! He felt incredibly relaxed because he knew someone else knowledgeable was there just for me, giving both of us help. During contractions and pushing, I found it helpful having some calming touch, essential oils to smell, and encouraging words to coach me through difficult moments. It was also helpful having some suggested pushing positions in the moment when I was too distracted to think about what I needed. After Julie left the hospital, my husband immediately said, "okay you can hire her for all our births." Just the presence of having a support person made us so much calmer and more confident in our whole birth experience. I look back on it feeling empowered and confident that my voice and wishes were heard."
Amy J.
"Overall I feel my birth experience was rewarding. The photos she took were nice and the birth log too. Julie was a huge help in every way. She was very much needed, especially at the end when I needed someone experienced. I would absolutely recommend her to anyone."
Serving women virtually as well as in homes, hospitals, and birth centers.
Julie offers Birth Doula Services virtually as well as locally in North and South Carolina including: Charlotte, Waxhaw, Ballantyne, Monroe, Matthews, Weddington, Indian Land, Rock Hill, Fort Mill, Lancaster, Kershaw, Camden, Blythewood, etc.
I'd love to connect with you!